How My German University Has Increased Their Conversion Rate By 85%
MyGermanUniversity is Germany's largest Database of English-taught Master programs.
MyGermanUniversity aim to offer international students independent and professional advice. Therefore, they list all available study offers on MyGermanUniversity.com – while many other portals or agencies only list or recommend those (private) universities that pay for exposure.
Increase In Page
Conversion Rate
Improved
Cost-Per-New-Client
• Reach out to more potential international students who want to study in Germany in English.
• Maximize Conversions to meet or exceed the industry average of 10%.
• Get potential traffic from the whole world.
• Get more participants for the weekly webinar.
• Get everything measurable ( effectiveness of all traffic channel)
• Create campaigns for each program
• Set up conversion tracking (we track everything)
As with all new clients, the first step was to research the client's industry to explore various opportunities to advertise their business online. I saw that Google AdWords was going to be the best choice for this client and we began developing a strategy. After comparing how much they could budget (Student Acquisition Cost) with the price of clicks and potential conversion rates, it was obvious that a dedicated Pay-per-click (PPC) campaign was worthwhile.
The next step in the process was to continue researching the market to learn about the competition's use of keywords, users' search habits and how they used search engines in the local area. Armed with this information, I was able to identify the best way to advertise the client's services for this particular campaign.
Next, it was time to follow the golden rule of marketing campaigns: "Never start a marketing campaign without a dedicated landing page." The landing page was created to match the relevant search for maximizing the Conversion Rate (CR) of all incoming visitors. I performed A/B testing on the ads and the landing page in order to continually improve the CR of the campaign.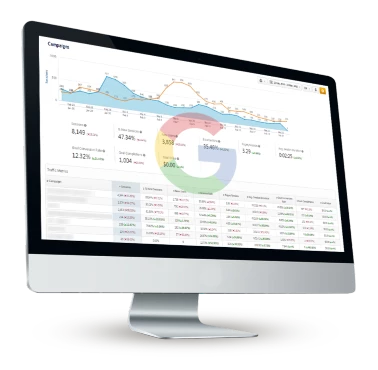 In just one month, my client saw amazing results!
• Conversion Rate of 30-36%
• An 85% increase in quality leads
With dedicated attention to research and testing, plus the implementation of good marketing practices, I was able to help My German University reach targets far beyond their expectations. The positive results led them to explore what other avenues of digital marketing I could help them with, and they are continuing to see exciting results as their business grows.
We Developed A Great Partnership With Monzurul And His Team And Their Dedication To Our Digital Ads Campaign Is Evident In All Aspects Our Business Online. We Appreciate Their Attention To Details And Creative Approach To Bringing Our New Exhibit To Life Online.
Stephan
Co-Founder Of My German University
There Aren't Many Premier Google Partners. We're One Of Them.
Only a handful of pay-per-click management companies have earned Premier Partner Status. The badge is awarded to agencies that have shown outstanding results for their clients over an extended period of time. We're proud to be part of that revered group.
Frequently Asked Questions
For your convenience, here are some answers to questions our customers commonly ask. This way, you can find the information you need more quickly.
LET'S TALK ABOUT YOUR DIGITAL SUCCESS
Get your digital marketing plan, tailored made for your business. Share your story, vision and goals and let us do the rest.